Manure and compost spreaders (E range)
All the spreaders in our E range come with 2 angled screw rotors. They are designed for those seeking mobility and versatility, especially for easier manoeuvring on steep slopes where the conveyor guidance system and low-level chassis come into full use. The volume of the blades helps to ensure that materials are cut up more finely. The lower discs and prongs help release powdery materials evenly.
Standard model
2 vertical angled screw rotors (mechanical drive)
Hydraulic drive conveyor; flow-rate control device
Tube chain conveyor (two-chain)
Tractor-type wheels
Wide-angle Cardan shaft
Front grill guard
Screw-type parking stand (except for the E30 model, which has a wheel parking stand)
Mechanical and hydraulic brakes
Lights, approved for road use - 25 km/h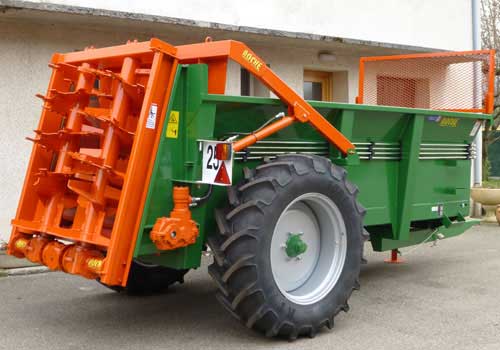 Options available
Hydraulic rear swing 'up-and-over' door
Spring-loaded towbar
Hinged side flaps (to set the spreading width)
Hydraulic parking stand
Electric conveyor control
Hydraulic power unit
Looking for a particular model?

Our catalogues are by no means exhaustive.
We can adapt to your precise needs to build a custom-sized model!
Click here to see our different models and product details, including technical specifications, dimensions, payloads and features...
See the technical chart
Download the product information sheet
Manure and compost spreaders (E range)