Pallet box loading wagon (R520 range)
The pallet box loading wagon is the ideal solution for boosting productivity. It divides picking and hauling into two completely separate stages: once you have finished filling up the box pallets along your rows, you group them into blocks of twelve or fifteen (depending on the box size), stack them three levels high and Bob's your uncle! A single driver can load, haul and unload the pallet boxes without any help.
Basic model
Space frame equipped with prongs
Separate hydraulic drawbar and wheels
Hydraulic door
Reinforced front drop side
4 or 5-function electric-controlled power unit
Mechanical and hydraulic brakes
Lights, approved for road use - 25 km/h

Two-wheel or four-wheel model
Options available
Road wheels = 245/70 R 19.5 tyres for the four-wheel model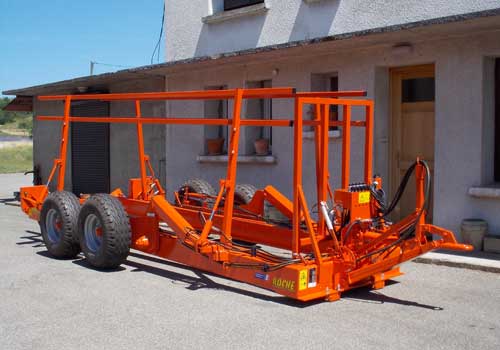 Looking for a particular model?

Our catalogues are by no means exhaustive.
We can adapt to your precise needs to build a custom-sized model!
Click here to see our different models and product details, including technical specifications, dimensions, payloads and features...
See the technical chart
Download the product information sheet
Pallet box loading wagon (R520 range)