Manure and compost spreaders for narrowly spaced planting distances (REV range)
Designed especially narrow to fit between closely spaced vine rows. Our REV range is specially designed for all types of farming that need to deal with width constraints: vineyards, espaliered orchards, market gardening rows ... The steered axel feature makes our models extremely easy to manoeuvre, especially at the end of rows where there is little turning space. The spreading tables allow you to deposit materials at the base of vines or espaliered trees, or spread along several rows at a time.
Standard model
2 horizontal beaters (mechanical drive )
Hydraulic drive conveyor; flow-rate control device
Tube chain conveyor (two-chain)
Standard wheels
Standard Cardan shaft
Front grill guard
Mechanical and hydraulic brakes
Lights, approved for road use - 25 km/h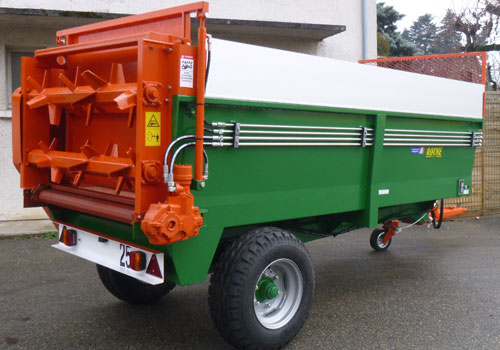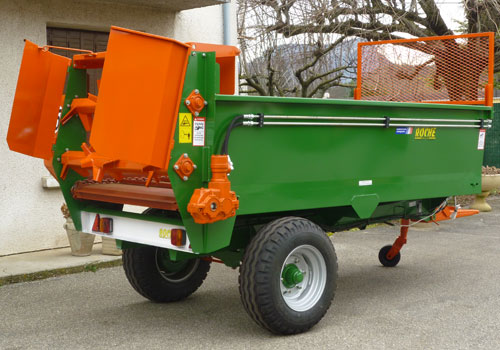 Options available
Spreading hood (to direct the product across the width of the row)
Hinged side flaps (to set the spreading width)
Steered axel (to make it easier to manœuvre out of rows and to avoid sliding on sloped vineyards)
Hydraulic sliding door
Hydraulic or mechanical spreading table, depending on the size of the body shell
2 vertical beaters (1.2 m-wide body shell)
1 hydraulic horizontal beater
Looking for a particular model?

Our catalogues are by no means exhaustive.
We can adapt to your precise needs to build a custom-sized model!
Click here to see our different models and product details, including technical specifications, dimensions, payloads and features...
See the technical chart
Download the product information sheet
Manure and compost spreaders for narrowly spaced planting distances (REV range)