Low-bed Trailer Range
Our low-bed trailers are robust and simply designed. With a wide selection of payloads and sizes to choose from, you can carry a large range of different types of equipment, extending from mini excavators to power shovels. They even come fitted out with loading ramps or tipping flatbed trailers.
Standard model
Simple, smooth flatbed
Mechanical and hydraulic brakes
Lights, approved for road use - 25 km/h
Depending on the model:
Stabiliser feet
Side edging (80 mm)
Options available
Bulb plate floor
Rotating drawbar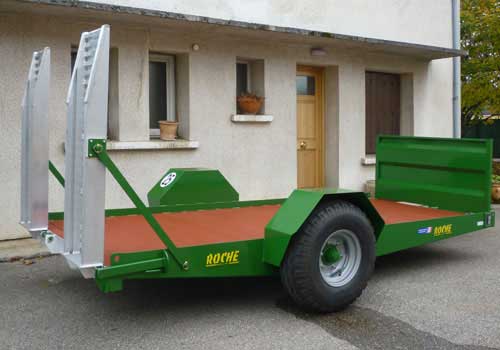 Looking for a particular model?

Our catalogues are by no means exhaustive.
We can adapt to your precise needs to build a custom-sized model!
Click here to see our different models and product details, including technical specifications, dimensions, payloads and features...
See the technical chart
Download the product information sheet
Low-bed Trailer Range