Manure spreader (EEV-EEF range)
The equipment in this range is specially designed for spreading calibrated materials as well as powders: manure, granules, pellets, lime... A rubber conveyor at the base of the hopper moves materials thanks to its 2 discs. Deflectors enable you to spread either on a localised area, or across the whole width.
Standard model
Fully hydraulic
Rubber hydraulic drive conveyor; flow-rate control device
Standard wheels
Hydraulic spreading table
Front grill guard
Mechanical and hydraulic brakes
Lights, approved for road use - 25 km/h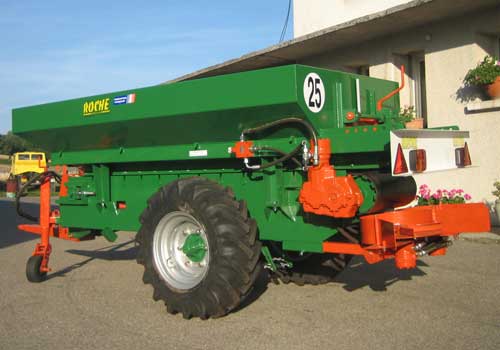 Options available
Articulated drawbar for turning tight corners
Extensions (0.25 m)
Sizing grid
Oil filter (input pressure)
Valve with hydraulic opening system
Looking for a particular model?

Our catalogues are by no means exhaustive.
We can adapt to your precise needs to build a custom-sized model!
Click here to see our different models and product details, including technical specifications, dimensions, payloads and features...
See the technical chart
Download the product information sheet
Manure spreader (EEV-EEF range)