Flatbed Trailer Range
Our RP range covers a choice of flatbed trailers that are semi-mounted, and available as either 2 or 4-wheel models, depending on the load capacity. They are equipped with harvest ladders that are either tilted or straight, and specially adapted for fruit farming / market gardening. We have designed them to be as low to the ground as possible to make it easier to load and unload and to ensure greater stability.
Standard model
Simple, smooth flatbed
Mechanical and hydraulic brakes
Lights, approved for road use - 25 km/h
Options available
Harvest ladders for round bales
Straight harvest ladders
Spring-loaded towbar
Side wideners
4 front bale racks
Strap box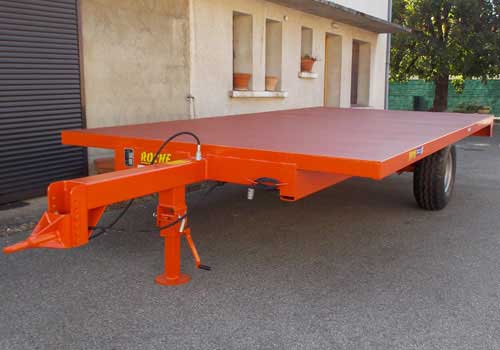 Looking for a particular model?

Our catalogues are by no means exhaustive.
We can adapt to your precise needs to build a custom-sized model!
Click here to see our different models and product details, including technical specifications, dimensions, payloads and features...
See the technical chart
Download the product information sheet
Flatbed Trailer Range