Drop side lifting trailers (E2-R / E2-M range)
We have a range of lifting and tipping trailers all fitted with a simple Z-type lifting system. They come in monocoque models as well as drop side flatbed models.
Standard model
Drop side model
Flatbed - Drop sides
Door control system opening from below
Monocoque model
One-piece stainless steel body
Hydraulic door control system
Drawbar adjustable to different heights
Mechanical and hydraulic brakes
Lights, approved for road use - 25 km/h
Options available
Spring-loaded drawbar
Lift-jack or hydraulic parking stand
Other extra options available (on request)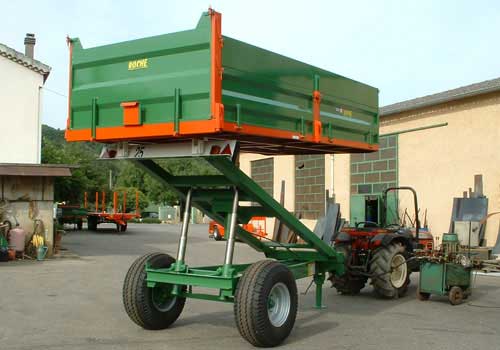 Looking for a particular model?

Our catalogues are by no means exhaustive.
We can adapt to your precise needs to build a custom-sized model!
Click here to see our different models and product details, including technical specifications, dimensions, payloads and features...
See the technical chart
Download the product information sheet
Drop side lifting trailers (E2-R / E2-M range)