Hydraulic fruit farming trailers (RFH range)
When hand picking fruit, the time and method used to load and unload your harvest can have a major impact on productivity. This is why we have developed our RFH range. Its variable height function means you can either lay the flatbed on the ground, or lift it to the same level as a loading platform or truck deck. The two separate arms help keep the bed steady while moving over uneven surfaces. Finally, for those wishing to keep their harvest in optimal condition, our four-wheel models and pneumatic shock absorber will ensure your fruit is kept unspoiled.
Basic model
Separate hydraulic drawbar and wheels
Surrounded by a mudguard
Front drop side
Drawbar adjustable to different heights
Mechanical and hydraulic brakes
Lights, approved for road use - 25 km/h

Elevation 0.6 or 1.2 m depending on the model Two-wheel or four-wheel model
Options available
Roller conveyor
Air suspension - elevation (0.6 m)
Electric-controlled power unit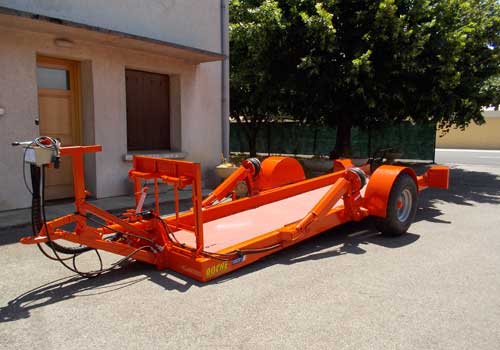 Looking for a particular model?

Our catalogues are by no means exhaustive.
We can adapt to your precise needs to build a custom-sized model!
Click here to see our different models and product details, including technical specifications, dimensions, payloads and features...
See the technical chart
Download the product information sheet
Hydraulic fruit farming trailers (RFH range)