Manure and compost spreaders (RE range)
The spreaders in our RE range are robust, economical and timeless. Highly versatile, they can be used to spread composted as well as straw materials. They are particularly suited to small and medium-sized farms, using tractors under 100 HP.
Standard model
2 horizontal beaters (mechanical drive)
Hydraulic drive conveyor ; flow-rate control device
Tube chain conveyor (two-chain)
Standard wheels
Standard Cardan shaft
Front grill guard
Mechanical and hydraulic brakes
Lights, approved for road use - 25 km/h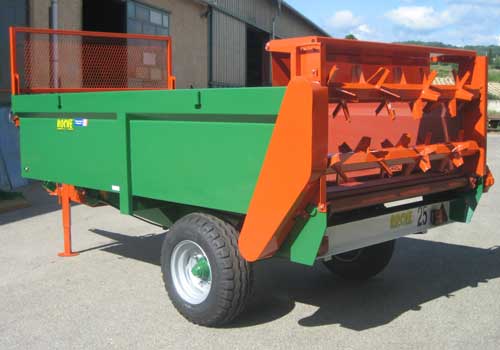 Options available
Spreading hood (to direct the product across the width of the row)
Hinged side flaps (to set the spreading width)
Steered axel (to make it easier to manoeuvre out of rows and to avoid sliding on sloped vineyards)
Hydraulic sliding door
1 hydraulic horizontal beater (for compost)
Looking for a particular model?

Our catalogues are by no means exhaustive.
We can adapt to your precise needs to build a custom-sized model!
Click here to see our different models and product details, including technical specifications, dimensions, payloads and features...
See the technical chart
Download the product information sheet
Manure and compost spreaders (RE range)