Spreader for pasty materials (ESF range)
Spreading pasty materials can often be problematic: too runny for standard spreading techniques, but not liquid enough for a slurry spreader. That's precisely why we have designed the ESF range for you.
The basic principle is very simple, but extremely efficient and effective:
a watertight body shell, a worm-type conveyor and a turbine all combined enable you to get rid of your olive husks, liquid manure and all your other pasty materials.
Standard model
Worm-type conveyor with turbine - outside diameter 150 mm
Standard wheels
Standard Cardan shaft
Mechanical and hydraulic brakes,
Lights, approved for road use - 25 km/h
Extra options
deflectors
hatch with hydraulic opening system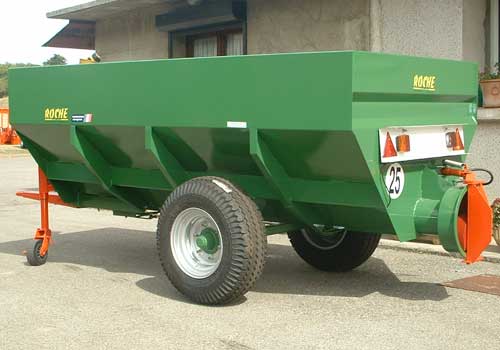 Looking for a particular model?

Our catalogues are by no means exhaustive.
We can adapt to your precise needs to build a custom-sized model!
Click here to see our different models and product details, including technical specifications, dimensions, payloads and features...
See the technical chart
Download the product information sheet
Spreader for pasty materials (ESF range)

* poids mort indicatif, varie selon les options